Published by the RightMove team, the House Price Index provides key information into market trends across the nation, whilst providing some handy tips to buying and selling. 
---
September usually represents the start of the autumn bounce in housing market activity, yet this is the first occasion since September 2010 where a price fall has been noted at this time of year. whilst the underlying market fundamentals remain strong, the uncertainty caused by political events has caused many to hesitate in buying, to which only heightens as the Brexit deadline looms. However, this also provides autumn buyers a great opportunity thanks to their extended position as a negotiator, if they keep their nerve.
To provide a further summary of the report;
The price of property coming onto the market has fallen by 0.2% on average this month, the first instance of a fall for this period since 2010.
The usual autumn bounce has yet to occur, with concerns regarding the current political sphere causing some to hesitate in their position. However the potential for it to fall later in the year still remains.
Number of sales agreed is down in all regions compared to a year ago, with a 5.5% drop in comparison to the 6.1% rise witnessed in the month prior.
Properties coming to market is down 7.8% compared to the same time last year, potentially showing an opportunity for a decreased level of competition in selling your home.
Stronger negotiating position for the autumn buyers who keep their nerve.
You can also see the full breakdown of regional trends across the nation below;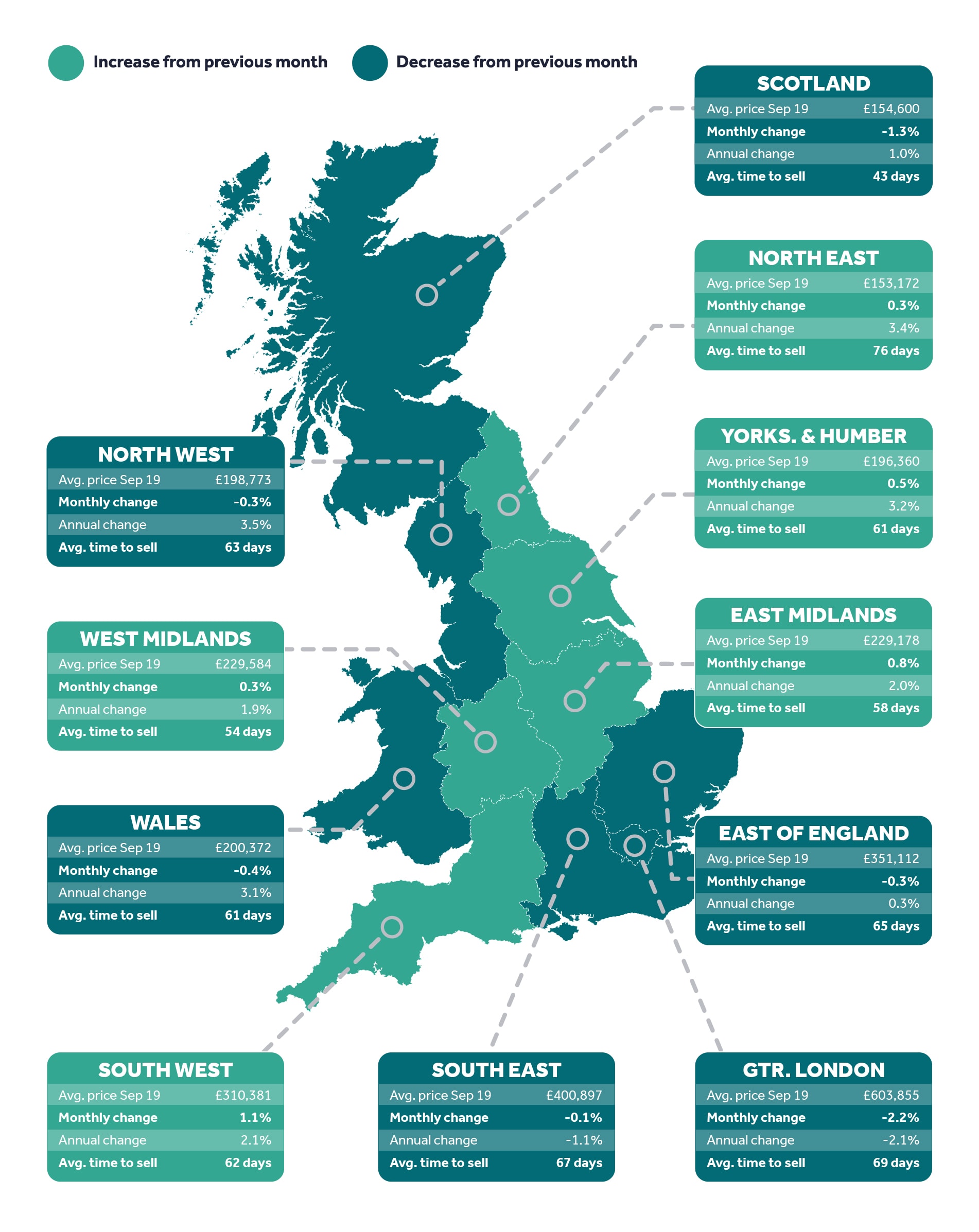 London trends show that due to a reduction of the price of property coming to market, the time to secure a buyer has gone upward. This potentially creates more opportunities for home owners in these areas, where increasing prices and further competition has led to difficult time in selling. And whilst also market sectors have seen price falls, the majority has been contained to the 'top of the ladder properties' (five-bed properties and above), suggesting lower prices and improved affordability are helping properties sell more quickly.